SmartNode 10200
Patton SmartNode™ 10200
- TDM+VoIP SmartMedia Gateway -
Felhasználási területek: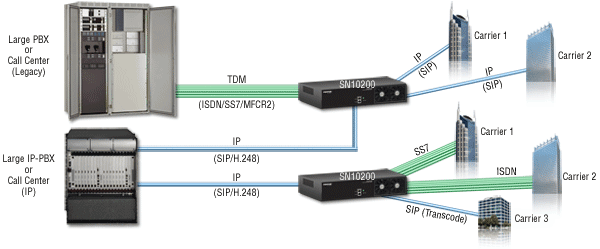 Carrier

High Traffic CPE for the Enterprise
The SmartNode 10200 can be used as a Carrier CPE providing SIP Trunks to large corporation with large legacy PBX, outsourcing Call Center with overseas operations, large legacy-based Call Centers, IP migration for large Call Centers or large Enterprises.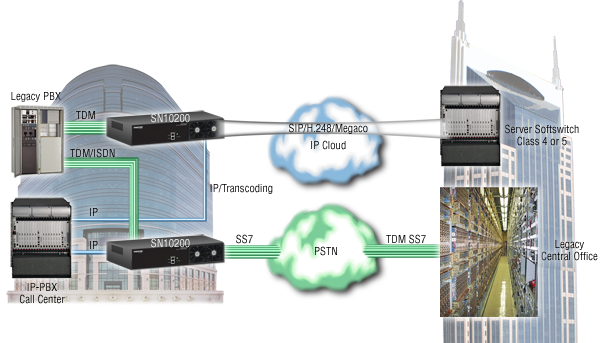 Carrier Core
The SmartNode 10200 is used on the Carrier core providing:
Wholesale origination and termination (i.e. calling cards)

Local, long distance and ILD carrier interconnection

Transcoding and IP to IP normalization

High definition voice transport

Fax over IP

LCR (least cost routing)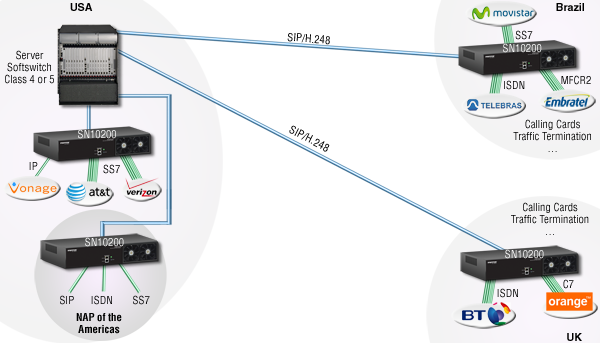 Carrier IP Migration
The SmartNode 10200 is usedfor IP integration in the core network (SS7 to SIGTRAN) as well as legacy central office integration to IP infrastructure.
IP Migration Carrier Edge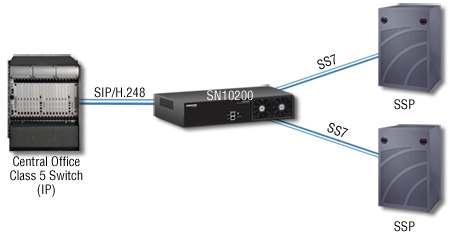 IP Migration Carrier Core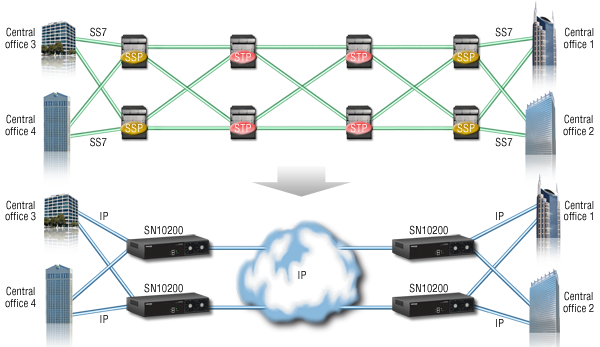 Value Added Services (Third Party Apps integration or Development)
Service providers are now building value-added services with all IP-based elements, typically using the SIP protocol, and in fewer cases using other IP protocols as the legacy H.323. These emerging IP-based networks offer enormous potential for generating new services and increasing revenue per subscriber, but the introduction of IP throughout the network also creates challenges. For all-IP environments, new elements are required that can mediate signaling, transcode among different media formats, and handle basic security issues.
Audio streaming applications (ex: ring back tones, background noise/music injection, etc.)

Interactive voice response (IVR)-based applications (ex: virtual assistant, follow me, call back, sponsoring ads, etc.)

IP roaming for mobile.

Social network integration

Temporary numbers to hide identity

Hosted conferencing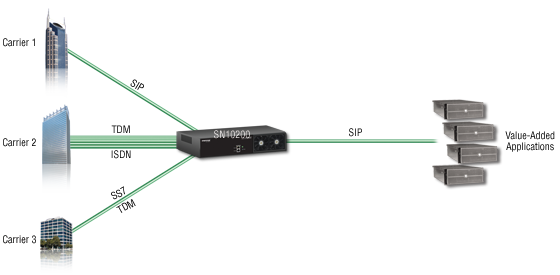 Specifikációk:
Capacity and voice processing
VoIP channels—512 to 2,016
PSTN interfaces—1 OC3/STM1 with APS (automatic protection switching) • 1 to 3 DS3 • Dual RJ48C for BITS or T1/E1 for signaling
VoIP interfaces—Dual 100/1000Base-T • RJ45 connectors on rear of unit
Vocoding—Universal codecs: G.711, G.723.1, G.726, G.729ab, T.38 • Other codecs: G.722.2 (AMR-WB), G.728, G.729eg, iLBC, clear mode (RFC 4040)
Fax/Modem/Data—T.38 fax relay (V.17 and V.34) • Automatic G.711 fallback • Modem and data pass-through
DTMF relay—RFC 2833, SIP INFO Method, In-band
Echo cancellation—G.168 echo cancellation • 128 ms echo tail on all channels simultaneously
Voice processing—Dynamic and programmable jitter buffer (20 to 200 ms) • Voice activity detection (VAD) • Comfort noise generation (CNG)
Management interfaces—Dual 100/1000Base-T for OAM&P
Simultaneous signaling support
SIP—Supported RFCs: 2327, 2976, 3261, 3262, 3263, 3264, 3311*, 3323*, 3325*, 3398, 3515*, 3578*, 3764, 3891, 4028 (*partial compliance)
SIGTRAN—M2PA, M2UA, M3UA, IUA • SS7 termination and/or relay supported
SS7—Up to 64 x MTP2 links (56, 64, n x 56/64 kbps, HSL) • Multiple redundant MTP2 links • Up to 64 MTP3 originating point codes and linksets • ISUP variants: ITU 92, ITU 97, ANSI 88, ANSI 92, ANSI 95, Telcordia 97, ETSIv2, ETSIv3, China, Singapore, UK Brazil
ISDN PRI—Q.931 ISDN PRI: NI-2, 4ESS, 5ESS, DMS-100, DMS-250, Euro ISDN ETSI NET5 (France, Germany, UK, China, Hong Kong, Korea), NTT (Japan), Australia
CAS—MFC R2 (standard ITU, Brazil) • Customizable protocol script files
Standalone call control—Any to any call routing (TDM-VoIP, TDM-TDM, VoIP-VoIP with transcoding) • Call routing based on: trunk group, calling/called numbers, nature of address, ASR, time of day, load-based, cost-based, TO:, FROM: Request URI, redirect numbers, and other parameters • NPA-NXX routing (100k+ table entries, Excel or CVS file upload) • Route retries • Call transfer (REFER, AT&T TR 50075)
H.248 (MEGACO) call control—ITU-T H.248 versions 1 and 2 • UDP, SCTP, IPsec transport • DTMF and fax detection • DTMF, announcements and call progress tone generation • Call quality and inactivity alerts
Session management and billing—SIP peer availability polling • RTP inactivity monitoring • CDR generation (RADIUS and text file)
Operation & Administration—Web-based system status and operations • SNMP v2/v3 GET, TRAPs and alarms • Dynamic configuration changes
Maintenance—Web-based interface for maintenance • Automated system upgrade • System backup, restore and copy
Provisioning—Web-based interface for configuration • Dynamic activation
Troubleshooting—Per-call tracing (history and/or live) • Signalling capture tools • SSH command-line interface)
Electrical characteristics
Power input—90 to 260 VAC, 47 to 63 Hz • -40 to -60 VDC • Redundant power supply with dual power inputs • Maximum 138 W power consumption
Dimensions—2U, 3.5H x 17.4W x 16D in. (88.9H x 442W x 406D mm)
Weight—20 lbs (9.1 kg)
UL/CSA 60950, CSA C22.2—EMC: FCC Part 15:2009, Subpart B, CE Mark (EN55022:2006, Class A, EM60950, EN61000, ETS 300 386)
Operating temp— 0 to +55 °C • 95% relative humidity, non-condensing
Storage temp— -10 to +75 °C, 95% relative humidity, non-condensing
NEBS Level 3 compliant
RoHS compliant
RendelhetĹ' típusok:
| | |
| --- | --- |
| Model # | Description |
| SN10200/16E/R48 | SmartNode SmartMedia Gateway 16 E1/T1, 512 VoIP Channels with Standard Signaling Set. Redundent -48V DC Power |
| SN10200/16E/RUI | SmartNode SmartMedia Gateway 16 E1/T1, 512 VoIP Channels with Standard Signaling Set. Redundent Universal AC Power |
| SN10200/1DS3/R48 | SmartNode SmartMedia Gateway 1 DS3, 672 VoIP Channels with Standard Signaling Set. Redundent -48V DC Power |
| SN10200/1DS3/RUI | SmartNode SmartMedia Gateway 1 DS3, 672 VoIP Channels with Standard Signaling Set. Redundent Universal AC Power |
| SN10200/2DS3/R48 | SmartNode SmartMedia Gateway 2 DS3, 1344 VoIP Channels with Standard Signaling Set. Redundent -48V DC Power |
| SN10200/2DS3/RUI | SmartNode SmartMedia Gateway 2 DS3, 1344 VoIP Channels with Standard Signaling Set. Redundent Universal AC Power |
| SN10200/32E/R48 | SmartNode SmartMedia Gateway 32 E1/T1, 1024 VoIP Channels with Standard Signaling Set. Redundent -48V DC Power |
| SN10200/32E/RUI | SmartNode SmartMedia Gateway 32 E1/T1, 1024 VoIP Channels with Standard Signaling Set. Redundent Universal AC Power |
| SN10200/3DS3/R48 | SmartNode SmartMedia Gateway 3 DS3, 2016 VoIP Channels with Standard Signaling Set. Redundent -48V DC Power |
| SN10200/3DS3/RUI | SmartNode SmartMedia Gateway 3 DS3, 2016 VoIP Channels with Standard Signaling Set. Redundent Universal AC Power |
| SN10200/48E/R48 | SmartNode SmartMedia Gateway 48 E1/T1, 1536 VoIP Channels with Standard Signaling Set. Redundent -48V DC Power |
| SN10200/48E/RUI | SmartNode SmartMedia Gateway 48 E1/T1, 1536 VoIP Channels with Standard Signaling Set. Redundent Universal AC Power |
| SN10200/64E/R48 | SmartNode SmartMedia Gateway 48 E1/T1, 1536 VoIP Channels with Standard Signaling Set. Redundent -48V DC Power |
| SN10200/64E/RUI | SmartNode SmartMedia Gateway 64 E1/T1, 2048 VoIP Channels with Standard Signaling Set. Redundent Universal AC Power |
| SN10200/STM1/R48 | SmartNode SmartMedia Gateway 1 OC3/STM-1, 2016 VoIP Channels with Standard Signaling Set. Redundent -48V DC Power |
| SN10200/STM1/RUI | SmartNode SmartMedia Gateway 1 OC3/STM-1, 2016 VoIP Channels with Standard Signaling Set. Redundent Universal AC Power |